Director: Abel Ferrara
Screenplay: Nicholas St. John
Stars: Abel Ferrara (Reno Miller),

Carolyn Marz (Carol Slaughter), Baybi Day (Pamela), Harry Schultz (Dalton Briggs), Alan Wynroth (Al the Landlord), Maria Helhoski (The Nun), James O'Hara (Man in Church), Richard Howorth (Stephen), D.A. Metrov (Tony Coca-Cola), Dickey Bittner (Ritchy), Steve Brown (Steve), Laurie Y. Taylor (Tony's Girlfriend)
MPAA Rating: R
Year of Release: 1979
Country: U.S.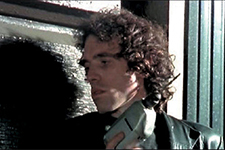 Abel Ferrara's feature debut The Driller Killer might very well have slid into relative obscurity following its theatrical release in grindhouses around the U.S. had it not been for its inclusion on Britain's so-called "video nasties" list, an unofficial list drawn up by Scotland Yard in the early 1980s of films that had been or conceivably could be prosecuted under the Obscene Publications Act. There was a flurry of public hysteria in England at the time about the insidious nature of graphically violent horror films that found new avenues of easy circulation on home video, which at the time had no regulations whatsoever. The Driller Killer, with its salacious title and its video cassette case featuring a startling close-up of a man screaming while a drill bores into his forehead and blood pours out, made it an easy target. In fact, it was one of the first films, along with Cannibal Holocaust (1979) and SS Experiment Camp (1976), to be targeted, based largely on its lurid full-page advertisements in the early months of 1982.
The irony is The Driller Killer is as much an art film-or, at least, it aspires to be-as it is a grotesque urban horror thriller. Ferrara himself has described it, perhaps somewhat tongue-in-cheek, as a comedy, noting in particular the fundamental absurdity of the deranged protagonist's modus operandi of murder-a phallic power drill. And it absolutely is. If you're intent on slaughtering the homeless denizens of New York City's mean streets, a power drill is about the most ridiculous means possible. Had he gone about his business with something more conventional like a gun, as Travis Bickle did in Martin Scorsese and Paul Schrader's Taxi Driver (1976), one of the film's most obvious inspirations, it probably never would have wound up on the list. But, it did, and the rest, as they say, is history.
Made on an extremely low budget over a lengthy period of time, The Driller Killer was Ferrara's bid to break into feature filmmaking. Having given up on a career in a rock band (his ties to the underground rock and punk scene in New York is all over the film), he instead turned to the camera, making a number of short films in the early 1970s and one hard-core pornographic film (1976's 9 Lives of a Wet Pussy). Because he couldn't find anyone else to commit to the project, he ended up playing (under the pseudonym Jimmie Laine) the lead character, a struggling painter named Reno Miller who is slowly losing his mind. A shaggy-haired bohemian who ends virtually every sentence with an emphatic man!, Reno lives in an apartment on the Lower East side with two women, Carol (Carolyn Marz), his ostensible girlfriend, and Pamela (Baybi Day), a vacant groupie. Carol and Pamela are sexually involved, an emasculating slight that only compounds Reno's economic frustrations. He is working on an enormous painting of a buffalo, which he believes he will be able to sell to his art dealer, Dalton Briggs (Harry Schultz), for a substantial sum and thus alieve his money problems, which should, in turn, make him more sexually and romantically appealing.
But, nothing seems to be going Reno's way, particularly when a punk band led by Tony Coca-Cola (D.A. Metrov) moves in downstairs at Pamela's behest and start practicing at full volume day in and day out. Reno complains to the landlord (Alan Wynroth), but to no avail, as no one seems to listen to or care much about him. He is the proverbial loner shouting into the wind and getting nothing back but the empty echoes of his own despair, and when he sees a television commercial for a portable battery pack you wear around your waist to power electrical tools, he slides from acting out his anger and impotence verbally to physically, targeting random homeless people to drill to death. The phallic nature of the power drill matched with Reno's constant emasculation makes the film an easy metaphor for frustrated masculine desire, which isn't surprising given that Ferrara's later body of work would focus so much on alienated characters acting out violently.
Ferrara's performance as Reno is functional at best; he's a significantly better director than he is an actor, which hampers the film and keeps it from developing the kind of psychological depth and spiritual torment that made Taxi Driver so devastating. Much of The Driller Killer comes off as kind of silly, despite Ferrara's numerous allusions to European art cinema, particularly the films of Pier Paolo Pasolini, whose depictions of urban squalor in his early neorealist films clearly influenced Ferrara's documentary-like capturing of the Big Apple at its most rotten (it shares a taste for urban hell with William Lustig's notorious Maniac, which came out a year later and was also a prominent entry on the "video nasties" list). Ferrara has also spoken of the film as a kind of documentary, as he based much of it on his and his friends' experiences making ends meet in New York in the '70s (minus the drilling killing, of course).
Ferrara, of course, went on to a substantial career of notable and varied films and television projects, including the rape-revenge thriller Ms. 45 (1981), the urban romance China Girl (1987), the organized crime dramas King of New York (1990) and The Funeral (1996), the eviscerating corrupt-cop drama Bad Lieutenant (1992), the underrated Body Snatchers (1993), and the vampirism-as-drug metaphor The Addiction (1995). Ferrara's work is deeply uneven, even in his best films, and you can see both his strengths and weaknesses at play in The Driller Killer, although some of the latter can be explained at least partially by marketplace demands for a low-budget genre film (I'm thinking particularly of a superfluous soft-core shower scene that serves virtually no narrative purpose outside of pure titillation). Written by Nicholas St. John (who penned 10 of Ferrara's films over the years), The Driller Killer suffers from lazy pop psychology and derives too many of its ideas from much better films. It also feels padded, particularly the lengthy scenes of Tony Coca-Cola and his band practicing, which feel like a sop to the punk rock crowd that could conceivably make up a sizable portion of the film's audiences. Yet, at the same time, there are moments of deranged visual brilliance and shocking juxtaposition and wicked black humor that suggest Ferrara's artistry was on the rise. In the end, The Driller Killer was little more than a stepping stone for its director, a way to get noticed and move on to bigger projects, and in that respect it was a grand success.
The Driller Killer Blu-ray
Aspect Ratio
1.85:1 / 1.33:1
Audio

English Linear PCM 1.0 monaural

Subtitles
English
Supplements
Audio commentary by director and star Abel Ferrara, moderated by film scholar Brad Stevens
Video interview with Ferrara
Willing and Abel: Ferraraology 101, a new visual essay guide to the films and career of Ferrara by Alexandra Heller-Nicholas
Mulberry St. (2010), Ferrara's feature-length documentary portrait of the New York location that has played a key role in his life and work
Trailer
Reversible sleeve featuring original and newly commissioned artwork by the Twins of Evil
Collector's booklet featuring new writing by Michael Pattison and Brad Stevens
Distributor
Arrow Video
SRP
$39.95
Release Date
December 13, 2016
VIDEO & AUDIO
Shot over a lengthy period of time on 16mm filmstock, The Driller Killer is never going to look great by contemporary standards, but Arrow Video's new 4K transfer and restoration from the original film elements has it looking as good as it ever has. Arrow should be commended for maintaining the film's inherently rough and sometimes uneven look, which is frequently gritty and grainy and not very pleasant, particularly in the darker nighttime scenes. Yet, at the same time, the new transfer has brought out detail and contrast that previously looked muddy and indistinct and has helped to illuminate some of the film's more vibrant artistry. The image looks generally clean, with some minor white speckling from time to time, but nothing distracting. Arrow also gives us several different viewing options for the film, including a variable aspect ratio: You can watch it either open-matter at 1.33:1 as Ferrara filmed it, or matted at 1:85:1, as it was projected theatrically. There are also two different versions of the film: the full U.S. theatrical version and a previously unseen pre-release cut. The Linear PCM monaural soundtrack sounds nice and clean. Like the image, it is a bit rough owing to its low-budget origins, but parts of it sound surprisingly robust and there is some real depth in many scenes (an opening title card admonishes us to play the film loud, which is good advice).
SUPPLEMENTS
First off, we should note that Arrow Video's release of The Driller Killer does not include any of the supplements from Cult Epic's 2004 two-disc DVD set, which includes a (now notorious) audio commentary by director Abel Ferrara and several of his early short films, including Nicky's Film (1971), The Hold Up (1972), and Could This Be Love (1973), as well as the trailer for 9 Lives of A Wet Pussy (1976). So, Ferrara completists will want to hold onto that disc. This is not to say, however, that Arrow's release is in any way bereft of supplementary material; it is, in fact, quite loaded. While we lose the previous commentary, we gain a new one with Ferrara that is moderated by Brad Stevens, author of Abel Ferrara: The Moral Vision. In addition, there is a new video interview with Ferrara about his overall career, with particular focus on The Driller Killer. Willing and Abel: Ferraraology 101 is an excellent new 35-minute visual essay about Ferrara's extensive and diverse filmography written and narrated by Alexandra Heller-Nicholas, author of Cultographies: Ms. 45. It covers the entire gamut of Ferrara's multi-decade career, with clips from virtually all of his major works, from his early amateur films, to mainstream efforts like Dangerous Game (1993), all the way to his most recent film Pasolini (2014). Also on the disc is Mulberry St. (2010), Ferrara's feature-length documentary about the New York location that has played such a key role in his life and work (this is the first time it has been available on home video in the U.S., which should enthrall Ferrara fans). And, finally, along with an original theatrical trailer, Arrow's release includes a collector's booklet featuring new writing by Michael Pattison and Brad Stevens.
Copyright © 2016 James Kendrick
Thoughts? E-mail James Kendrick
All images copyright © Arrow Video